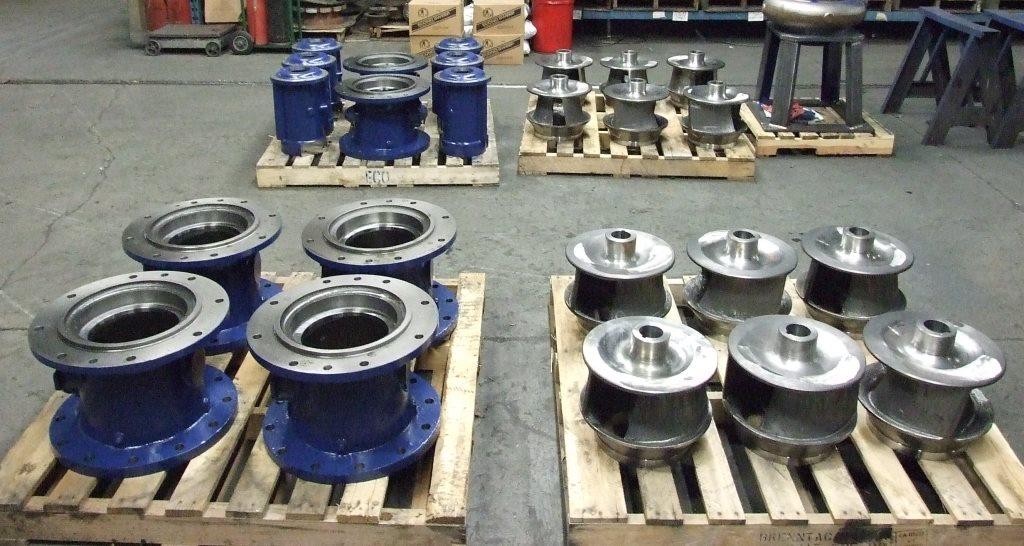 ABBA1221/XT35 Deer Island
Nearly 13 years ago, ABBA Parts embarked on a project to re-engineer and manufacture the necessary parts required to retrofit 81 pumps at the Deer Island wastewater treatment facility in Boston.
Read the full case study, Deer Island MWRA Case Study
The original 12" centrifugal return sludge pumps, which at the time had only been installed about 5 years, were failing at an alarming rate. Shaft breakage directly behind the impeller was the main problem.
ABBA Parts was challenged to "make these pumps more reliable" and make them more reliable WE DID! We modified and upgraded the design and the following changes were made:
Shaft is now manufactured in 17-4pH St. St. material for higher strength with integral sleeve (not separate), taper fit at the impeller and threaded to accept a locking impeller nut
Impeller is now manufactured in ductile iron with tapered bore to correspond with the tapered shaft for more reliable fit. Ductile iron is now used for higher strength and greater impact resistance
Impeller bolt was replaced with a large impeller acorn style impeller nut with integral washer to provide a positive / mechanical locking feature
Bearing arrangement was changed and upgraded to accommodate bearings with much higher load rating
Since 2003 we continue to support MWRA – Deer Island with high quality replacement parts, delivered quickly and at very competitive prices.
Total shipment consisted of 6 each: CW and CCW impellers, bearing frames, frontheads and wear rings to fit ABBA model 1221/XT35 pumps.